Naples Capodichino Airport ( NAP ) is the main international aiport in Campania region and sourhtern Italy.
Naples Airport (NAP), also known as Capodichino Airport, is the main airport serving the city of Naples, Italy. It is located just 7 kilometers from the city center and is easily accessible by public transportation or taxi. However, if you are looking for a more convenient and comfortable way to get to your destination, a NCC transfer is the perfect option.
Entiteld to the aviator Ugo Niutta, Naples airport is close to many tourist attractions such as Positano, Sorrento, Amalfi, Pompei, Herculaneum and much more.
Naples airport is connected to major international destinations with more than 110 direct flights.
Arriving in Naples, Italy? Looking for a convenient and reliable way to get to your destination? Look no further than our Naples Airport Shuttle Service. We offer a variety of vehicles to choose from, including sedans, and minivans, so you can choose the perfect one for your needs. Our drivers are professional and experienced, and they will take you to your destination safely and comfortably.
Tourist Locations near Naples Airport
Airport Transfer Naples Italy
Elevate your experience with our premium limo services. Whether you're a discerning traveler, a business executive, or a tourist seeking luxury, our chauffeur-driven limousines are at your service. Arrive at your destination in style, comfort, and class. Our experienced drivers are not just chauffeurs; they are your local guides, ensuring you explore the region with insider knowledge.
We offer a variety of NCC transfers from Naples Airport to suit your needs. Whether you are traveling for business or pleasure, we have a vehicle to meet your requirements. Our fleet includes sedans, minivans, SUVs, and limousines. We also offer a variety of additional services, such as airport meet and greet, luggage assistance, and Wi-Fi.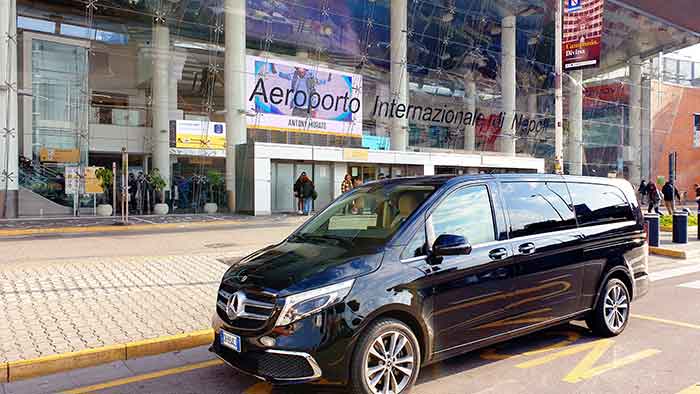 Airport transfers: We offer door-to-door transfers from Naples Airport to your hotel, home, or other destination. City tours: We offer a variety of city tours, including historical tours, food tours, and shopping tours. Special events: We offer transportation for weddings, corporate events, and other special events.

Why Choose Our Transfer Services
Punctuality: We value your time and guarantee timely pickups and drop-offs.
Professionalism: Our drivers are trained professionals, ensuring a safe and smooth journey.
Luxurious Fleet: Travel in the lap of luxury with our well-maintained, high-end sedans and minivan.
Local Expertise: Our drivers are locals, offering you insights into region hidden gems and must-visit places.
Customized Experience: Tailored services to meet your specific needs and preferences.
Convenience: You won't have to worry about finding your way around the city or navigating public transportation. Comfort: Your driver will pick you up and drop you off at your desired destination. Safety: Your driver is a professional who is familiar with the area.

At Transfer Italy, we go beyond expectations to provide you with an unparalleled travel experience. Whether you're arriving, departing, or exploring Naples and its region with our limo services, trust us to make your journey memorable. Your comfort, our commitment – because every traveler deserves the best.
To request a quote, please fill out the form below.and book your Naples airport transfer today!
Book your NCC Airport Transfer today and experience the difference!

Information about the Naples area:
Naples is a beautiful city with a rich history and culture. Here are a few things you might want to know before you visit:
The official language of Naples is Italian.
The currency of Naples is the euro.
The best time to visit Naples is during the spring or fall, when the weather is mild.
Tips for planning your trip to Naples:
Here are a few tips for planning your trip to Naples:
Book your flights (info at www.aeroportodinapoli.it)and accommodations in advance, especially if you are traveling during peak season.
Purchase a Naples Pass, which gives you free admission to many of the city's attractions.
Learn a few basic Italian phrases before you go.
We hope this information is helpful. If you have any questions, please do not hesitate to contact us.